Safe Disposal Campaign Toolkit
We developed a number of resources to help educators, health providers, nonprofits, and other partners to use this campaign in their own communities. You can access all of these materials below.
*Notice to Coalitions and Partners:
As you may know, DEA's April Take Back Day events have been cancelled due to the current COVID-19 pandemic and government mandated shelter-in-place for Washington residents. We have updated several of the below toolkit materials to reflect this, most notably, the social media content, and we encourage you to continue to spread awareness of the importance of safe disposal (and safe storage) in your communities - especially through use of the Take Back Site Locator tool on www.TakeBackYourMeds.org. As always, there is a range of digital and TV ads in this toolkit that can be used in your efforts.
For any questions or technical assistance, please contact Jasmine Albinson at jasminea@wearedh.com. Thank you for all that you do.
To most effectively reach your communities' audiences, we've provided a series of options for each material: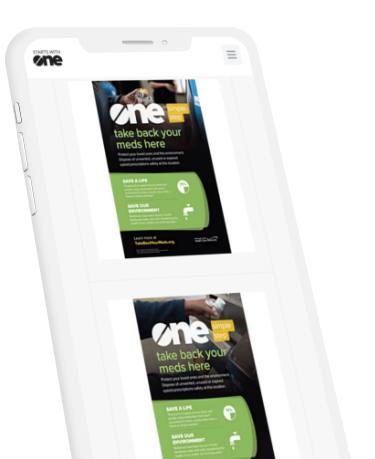 IMAGE VERSIONS
chose the images that best represent your community
LOCALIZABLE
add your contact information to a handful of materials
PRINT-READY VERSIONS
chose versions with crop marks to sent directly to a professional printer, or choose versions without crop marks to print on your own personal printing
NON LOCALIZABLE
use all campaign materials exactly how they are
TOOLKIT ITEMS
click on any of the following to go to thats item's downlode options